SGWN Event: Life after 40 with Viv Whelan
Hosts: Te Aka Wāhine o te Waipounamu Southern Government Women's Network
Venue: Tatauranga Aotearoa Stats NZ
Date: 11 May 2023
Speaker: Viv Whelan, Christchurch Women's Prison Director
Viv shared with us how her life changed at 40 when she made the decision to shift from being a Karitane Nurse in Whanganui to join Ara Poutama Department of Corrections, leading to her latest role as Prison Director.
Viv's presentation was marked by honesty, insight, and inspiration. She spoke passionately about her dedication to supporting her staff and the individuals under her care. She openly discussed the challenges she faced and the measures she took to improve the system. Viv shared instances where she had to sacrifice valuable time with her family in order to ensure the safety of her team and provide support during tough times. She emphasised the significance of leaving a lasting legacy and creating space for the next generation of leaders, as well as taking time back to put her family first.
It was great to see a high number of people online and in person enjoying Viv's story and there was an active question time when Viv did a great job of responding on a range of topics. A huge thank you to Viv for sharing her inspirational journey.
This was the first SWGN event we've hosted at Tatauranga Aotearoa Stats NZ and it was great to be able to cater both for in-person and online attendees (at no cost). This is a venue we will be able to use again in the future – next time we'll make some improvements to the positioning of the speaker for online viewers.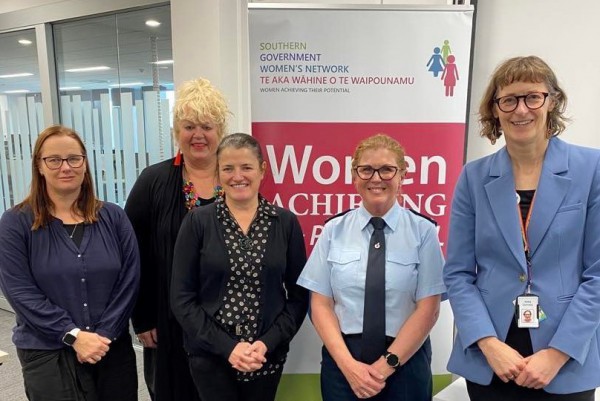 From left: Wendy Thompson, Jennifer Leahy, Kirsty Paterson, Viv Whelan and Kathy Connolly