AGWN Profile: Community Senior Sergeant MJ Riddle
Community Senior Sergeant MJ Riddle, an active member of AGWN representing NZ Police, was on the organising committee for the International Women in Policing Conference which recently took place in Tāmaki Makaurau. MJ tells us about her role, and the conference.
Could you tell me about your current role and what you enjoy most about it?
I have recently moved into the role of Community Senior Sergeant for Counties Manukau South. Counties Manukau South is a large geographical area and the amazing work being conducted within the community partnerships demonstrates the passion of the police staff and the community to work together for solutions makes my heart warm every day.
What brought you to a career in the public service?
I joined the NZ Police for a sense of purpose in life. I learnt growing up from strong whanau role models to work hard, be compassionate and make a difference for others.
Have you experienced any challenges during your career and how did you overcome them?
One of the challenges has been work/life balance including sleep deprivation over the years. Making time has been the clarity to the solution, and not making excuses. I get up to exercise before work which kicks in the endorphins for my overall well-being which in turns helps for a clear head during work time and then after during my happy home life.
Has there been a particular mentor you have looked to for guidance or inspiration?
My father still provides great guidance at the age of 82yrs. He is calm, hardworking and is always positive. Throughout the years I have been privileged to know many great mentors who have taught me to always focus and work hard in your current job and always say yes to every opportunity as you never know where it leads.
The International Women in Policing Conference was held for the first time in Auckland on the 17th-22nd Could you describe what was so significant about the conference?
2023 marked the 60th Anniversary of the International Association of Women in Police (IAWP) annual training conference and the 12th biannual Australasian Council of Women and Policing (ACWAP) conference and 24th ACWAP Excellence in Policing Awards. This conference also celebrated the 130-year anniversary of New Zealand women winning the right to the vote, providing a timely opportunity to highlight and reflect on what women's rights have achieved over the past 130 years. The IWPC conference hosted over 800 women from 70 countries across the world. The opportunity to learn, listen and network was truly inspiring for all our delegates both internationally and nationally. The conference theme of "Refresh Renew Refocus" showcased how we can enhance and develop our professional and personal growth and knowledge, as we look to new methods of ensuring safety and security of all within our wider communities.
Have you received feedback from the delegates attending the conference?
We have received an unanimously positive response from delegates nationally and internationally which has been amazing. One of the feedback items received was from Detective Constable Justine Wood from Tasman Policing District.
It was a very inspirational experience and one that I will treasure. It was a great opportunity to meet, speak with and make contacts within NZ and the world that will be of benefit to me in my future. Thank you for the opportunity to represent the Tasman District. "You can't be what you can't see".
What changes would you like to see for wāhine in the Police and/or public sector in the future?
I have a passion to see further wāhine develop their careers and have the confidence to step into leadership roles within Police and the public sector. To see all the public sector organisations providing the opportunities like the IWPC Conference so our wāhine "can see what they can be and beyond".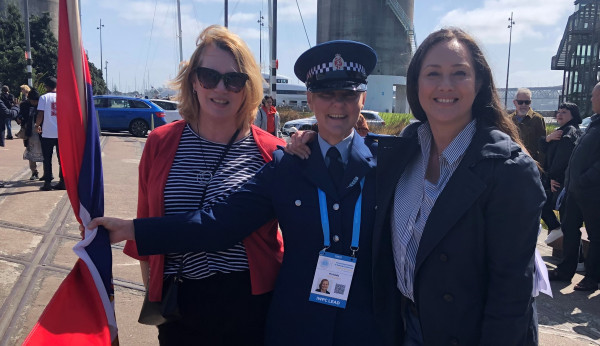 From left: AGWN Deputy Chair Joanna Maskell, Community Senior Sergeant MJ Riddle and AGWN Chair Sarah Leo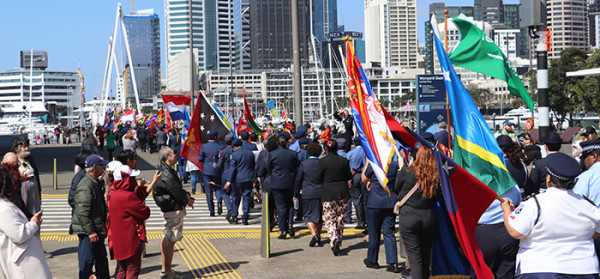 The conference ended with a parade along the Tāmaki Makaurau waterfront.