An introduction to MBIE's Arahanga Wāhine Women's Network
Arahanga Wāhine is the Ministry of Business, Innovation and Employment (MBIE)'s Women's Network. This rōpū strives to create a community and a safe environment from which to influence change for all.
Arahanga Wāhine supports and inspires all women to grow at MBIE by advocating, connecting, enabling growth and fostering a sense of whānau. It is a safe place to challenge the status quo.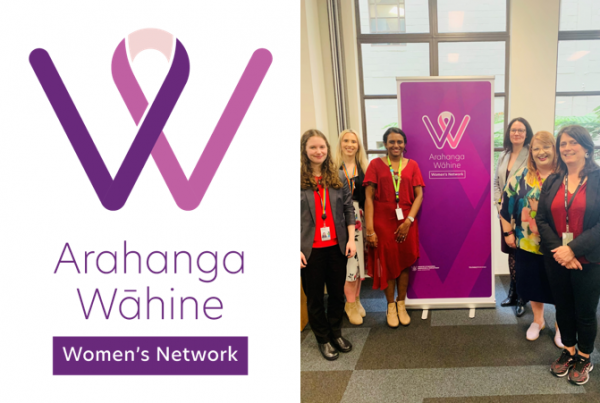 Arahanga Wāhine logo and Committee members in front of the network banner
The Network was formed in 2014 by a group of women inspired by the book 'Lean in' by Sheryl Sandberg, with a focus on helping women with career development and into formal leadership positions. Since then, it has grown steadily and the scope has expanded to support its members in broader ways including promoting work-life balance, gender pay equity, inclusion and diversity initiatives, mentoring, and leadership opportunities.
The network's gifted Te Reo Māori name – Arahanga Wāhine – captures the broader purpose of the network and means "women taking the lead and supporting each other." This is in the spirit of Pae Kahurangi, looking to the past to shape our future. It captures the network's rich history as 'Women in Leadership'.
The committee is made up of a diverse range of talented wāhine who bring their proactive can-do attitude to this volunteer role. Chair Tricia Sampson leads the network from a place of building a community that is focused on:
supporting each other
building connections and networks
collaboration and mahi tahi cooperation
speaking up for what we want and believe in
trusting and believing in ourselves.
It is important to be brave and kōrero about the topics everyone else is unsure how to approach. This includes workshops around bullying, harassment and sexual harassment. When we come together as one voice, we are stronger and have more influence.
Vice-chair Natalija Andrejic, led and advocated for a change to the wellness spaces at MBIE including providing functional spaces for parents who bring their children to work. For Natalija, Arahanga Wāhine embodies many friendships and opportunities to nurture even small grass-roots ideas by banding together to magnify our voices so they can be widely heard.
The Network runs a very successful and popular Women in Leadership Mentoring Programme. With 45 mentor-mentee pairs at its inception, the Women in Leadership Mentoring Programme connects people together through mentoring relationships that empower women to reach their potential, grow and thrive at MBIE and fulfil their career aspirations.
A sister network to Arahanga Wāhine, the Women of Colour Network was launched in 2021. MBIE's Women of Colour Network creates a safe and inclusive space that supports and empowers women of colour to thrive and lead authentically at work. Co-led by inspiring women Hend Zaki and Noelle Dumo, their work focuses on and advocates for the interests of women of colour at MBIE, and they welcome the support of all allies.
To connect with Arahanga Wāhine or find out more about the work they do, contact them here.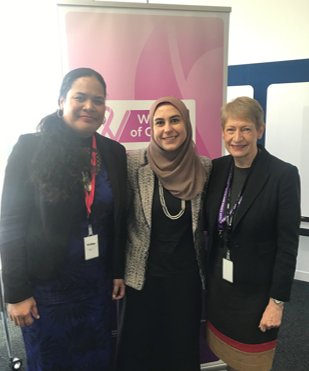 From left: Carolyn Tremain, MBIE Secretary with Women of Colour co-chair and Senior Advisor Refugee and Migrant Services, Hend Zaki and Melanie Porter, Deputy Secretary Strategic Policy and Programmes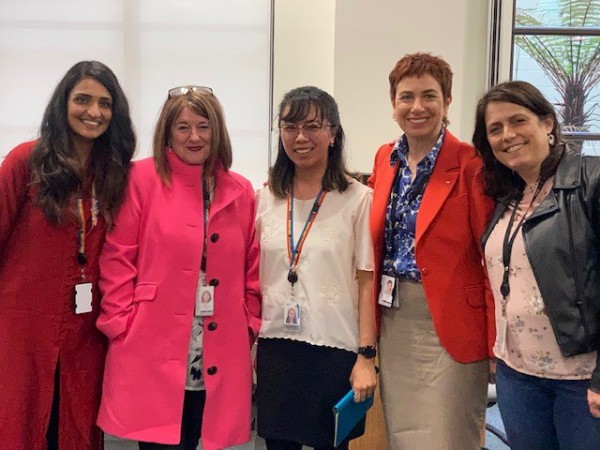 From left to right: Dr Sripriya Somasekhar, Manager Diversity, Equity and Inclusion, Suzanne Stew, Deputy Secretary, Te Whakatairanga, Service Delivery, Noelle Dumo, Policy Advisor and Women of Colour Co-chair Noelle Dumo, Megan Main, Former Deputy Secretary, MIQ, and Tricia Sampson, Senior Business Advisor and Arahanga Wāhine Chair.