Te Ara Ahunga Ora Retirement Commission's women's network, Tūhono Wāhine
Hosts: Tūhono Wāhine, Te Ara Ahunga Ora Retirement Commission's women's network
Venue: Everybody's - Auckland
Date: Wednesday 29 March 2023
This event was all about connecting with other women's network groups and like-minded wāhine advocates by creating a safe space for collaboration and connection.
Te Ara Ahunga Ora Retirement Commission's women's network, Tūhono Wāhine hosted their inaugural networking event on Wednesday 29 March in Tāmaki Makaurau Auckland. The event was opened by Retirement Commissioner Jane Wrightson, who leads Te Ara Ahunga Ora in its work to empower the people of Aotearoa on their journeys to a better retirement. It was a fantastic opportunity for wāhine to connect in a safe and welcoming environment.
Wāhine from several agencies attended, including the Ministry of Justice, Ministry for Pacific Peoples, Kāinga Ora, Financial Markets Authority, Health and Disability Commissioner, Tātaki Auckland Unlimited and South Seas Healthcare. It was a wonderful evening enjoyed by all in attendance. Due to limited funding, we won't be hosting another networking event in the near future. However, we hope this gets the ball rolling for other agencies to host similar events.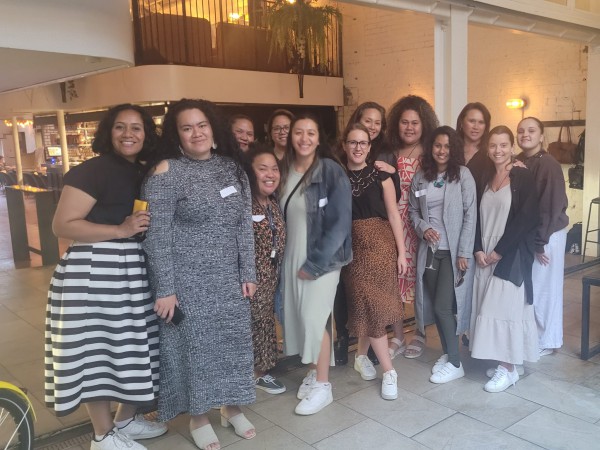 Back row (L-R): Anita Edwards, Erin Thompson-Pou, Sarah Leo Anderson, Lotonui Iosefa-Naisali, Marina Kawe-Peautolu,
Evyan Staladi
Front row (L-R): Liline Hewett, Val-vetta Lafolafo, Mary Afemata. Kimiorangi Thompson, Tania Vercoelen, Shristi Singh, Becca Jenner

From left: Mary Afemata, Sarah Leo Anderson, Jane Wrightson, Lotonui Iosefa-Naisali, Val-vetta Lafolafo, Liline Hewett
Guests listening to the welcome from Tūhono Wāhine and Retirement Commissioner Jane Wrightson