Arahanga Wāhine delivers report on government agency Parents' Rooms
What is it like breast feeding while working in the Public Sector? MBIE Women's Network has assessed government agency Parents Rooms.
Members of MBIE's Women's Network, newly renamed Arahanga Wāhine, celebrate the milestone of sharing the Parents Room Report 2020 to participating government agencies, and take a moment to reflect on their own experiences of breastfeeding at work.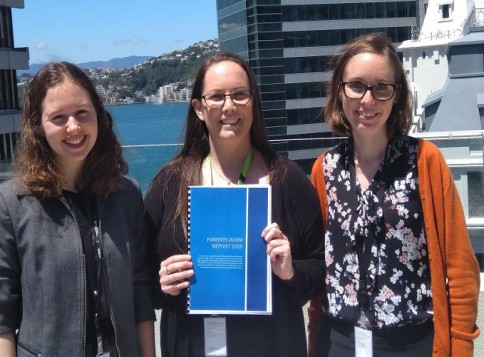 From left: Natalija Andrejic, Monique Esplin (with report) and Anna Tavoi.
Over 2019-2020, members of MBIE's Women's Network, Senior Policy Advisor, Anna Tavoi, Organisational Development Advisor, Natalija Andrejic, and Senior Solicitor Monique Esplin – now Manager GLN Programmes and Capability at Crown Law, conducted a survey of the Parents Rooms of 26 government agencies.
"Based on our own experiences using the Parents Room at MBIE Stout Street, we were curious to find out how it compared with Parents Rooms at other agencies and whether we could take our findings of best practice to produce recommendations to decision makers at MBIE as well as the broader public sector. There was a real range in the set up of each Parents Room, and our hope is for there to be a consistent standard for Parents Rooms in Government agencies across sites and regional offices."
From their surveys and based on their own experience, the authors of the report identified 14 features ("essential criteria") that a Parents Room should offer. These criteria included privacy, good temperature, a sink, hot water, drinking water facilities, a fridge, a changing table, a closed bin, a microwave, signage on the door and awareness of location, appropriate seating, adequate capacity, and exclusive access by breastfeeding/bottle-feeding staff.
Number of agencies that met the essential criteria
"Everyone's experience of becoming a parent or transitioning back to work is unique, but it can be invisible to others around us. What we found from bumping into each other while using the Stout Street Parents Room facilities was that because of the limitations of the room, we all had shared struggles that were invisible to the rest of the workplace. For me, breast feeding at work from when my baby was 6 months old was a big part of my every day life. To begin with, I was breast feeding 4 times a day in the office to maintain my milk supply. Looking back I can't believe I managed it! My managers and colleagues were really supportive in giving me the space to manage my time. Our building facilities should from the outset be designed around our people and our individual needs so that we can do our work without worrying around our comfort and safety. I'm really pleased that we came together to try and make some change and increase our collective knowledge." –Natalija Andrejic
"Returning to work after a period of parental leave is a big deal. The sense of pressure to express enough milk during the work day can be overwhelming. Adequate Parents Room facilities go a long way to easing this feeling of pressure, because they facilitate a parent's ability to express milk quickly, easily, and without unnecessary disruption to the work day. Working on the Parents Room report was a fabulous experience as I loved learning more about something that I felt so passionately about, and finding a positive outlet for the challenges with returning to work that I had previously encountered. It was amazing to connect with two women who were also passionate about improving the experiences of parents in the workplace. It was fantastic working with Natalija and Monique on a product that can instigate some real change and help other parents." –Anna Tavoi
"At the time of completing the report I was not a parent but was conscious of the provision of a Parents Room as an employment issue. Since having my first baby recently, I have become increasingly aware of the importance of accommodating the return of parents to work. The parents room is an important component of this. I was able to organise the use of a parents room at a neighbouring agency which illustrates the collegiality and coordination between agencies and recognition of the importance of such a facility. It means I will return to work with much less anxiety knowing that I can express milk for my baby and continue to be an efficient employee. My hope is that every government employee has access to the same type of arrangement so returning to work is a stress-free experience and they feel valued and supported by their employer." –Monique Esplin
Update on MBIE's Parents Rooms
As a result of the network's recommendations, short-term improvements have been made to the Stout Street Parents room, including installation of a sign on the door, more adequate heating and curtains, new chairs, fridge, microwave, rubbish bin and a changing table. Wider work is underway in the property team to look at further upgrades to the Stout Street parent's room facilities. A property brief is in development to determine all requirements for a wellness suite and to secure funding for future improvements.
The set up of the newly refurbished Parents Room in MBIE's Pastoral House was informed by the recommendations of the Parents Room Report, meeting 13/14 essential criteria.
Pastoral House Parents' Room
If you are interested in reading the Parents Room Report Overview for your agency, or sharing your experiences with Arahanga Wāhine, email the Women's Network. We would love to hear about the Parents Room in your office.