Arahanga Wāhine celebrate new parents' rooms in MBIE's Stout Street office
MBIE's Stout Street Wellness Suite now contains two new purpose-built parenting rooms following the cross-government 2020 Parents Room Report recommendations.
The upgraded Wāhi Whaioranga Wellness Suite is the result of a three-year journey and a huge milestone for MBIE's Arahanga Wāhine Women's Network.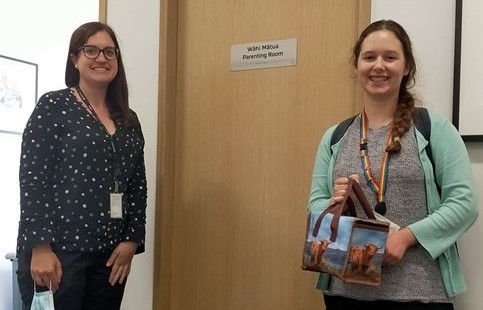 From left: Emily Parker and Natalija Andrejic Arahanga Wāhine Women's Network members at MBIE
These rooms are functional spaces for parents who bring their children to work for visits and will make a real difference to the day to day experience of women who express breastmilk at MBIE. In a building as busy as the Stout Street office, having two parenting rooms makes it much less likely that parents will need to wait or return later to use the space. This is a first for the public service.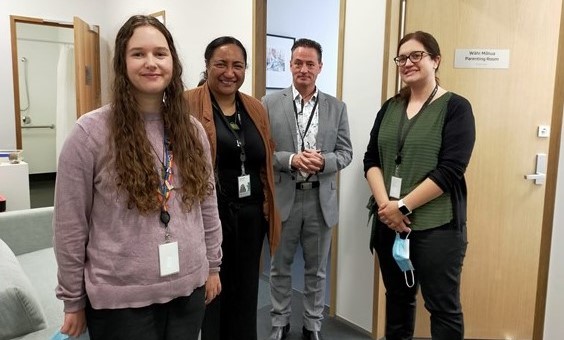 A heartfelt blessing of the Wāhi Whaioranga Wellness Suite took place on Monday morning led by Dannu Tahua Jobe Learning and Development Advisor and attended by Jasmine Wilson, Kai Tomina-Manager Māori Capability & Co-Chair Te Rau Puāwai, Dawn Herewini-Donovan, Facilities Coordinator, and parents who had used the room Natalija Andrejic and Emily Parker.
This achievement is the direct result of women connecting together as part of MBIE's Women's Network, Arahanga Wāhine who seek to actively create a community and a safe environment for ALL women at MBIE to grow and influence change.
The journey began when Arahanga Wāhine committee members, Natalija Andrejic, Anna Tavoi and Monique Esplin made multiple proposals to MBIE for improved facilities for parents. Struggling to have their voices heard, they decided to survey and write a report on the standard of parenting rooms across the central offices of 26 government agencies. Their recommendations shaped the new upgrades to the parenting rooms in Stout Street and Pastoral House. Over the last year, Emily Parker also consulted towards the final improvements at MBIE.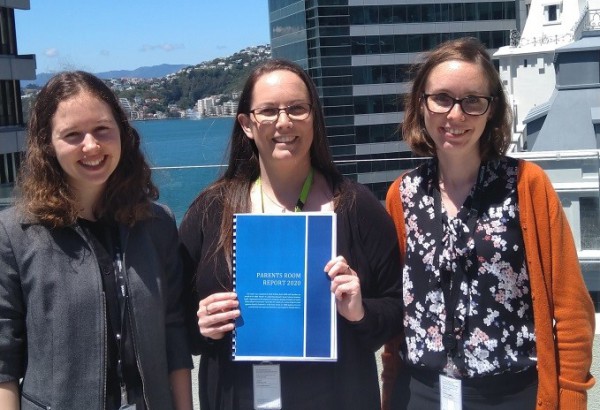 From left: Natalija Andrejic (MBIE), Monique Esplin (now at Crown Law) and Anna Tavoi (now at The Female Career) with the cross-government survey.
The new upgrades have made MBIE the leader in parenting room standards across the public sector. As MBIE oversees the Employment NZ guidelines for breastfeeding at work it's important their central office parenting room facilities demonstrate best-practice and are fit for purpose.
Mums at MBIE share their reflections on the journey to the new parenting rooms.
"I feel that my voice has now been heard by MBIE and I feel proud that we were māia and created change. My workdays will be more efficient and comfortable using the new parenting rooms now that we have all the amenities in the same space. What I am most excited about is having Wifi and two parenting rooms to accommodate the size of the Stout Street offices. I hope the new parenting rooms give new mothers a feeling of choice about when they return to work and whether they continue to breastfeed, and that it may encourage more partners to share parental leave." –Natalija Andrejic
"Two years ago, I returned to work from parental leave and continuing to breastfeed was really important to me. The lack of adequate facilities and spending my lunch hours trying to find a suitable, safe space made an already challenging time even more stressful. I hadn't realised how important these facilities were until it was me experiencing it for myself. I was pleased to be consulted on the facility's design. It's great to see that MBIE are making positive changes to become a more inclusive workplace." –Emily Parker
"I know many mums like me who have wanted to balance return to work with continuing to breastfeed. It's wonderful to see MBIE provide a parenting room with appropriate facilities, and I am proud to work for an agency that leads the way for parents, with flexible working arrangements and exclusive parenting amenities." –Lizzy Palmer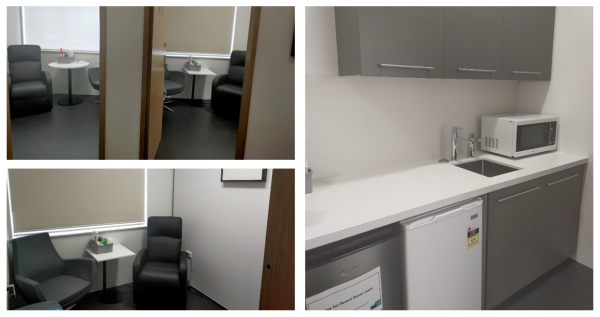 What are your agency's parenting rooms like?
Now could be a great time to find out if your office has made any improvements to the parenting rooms following the recommendations from the 2020 Parents Room Report. If you would like to receive a copy of the original report recommendations for your agency, email the Women's Network.