Relaunch – MOT Women's Network
Host: Ministry of Transport Women's Network
Venue: MOT offices, Lambton Quay, Wellington
Date: 25 May 2018
Although a government women's network (GWN) group has existed at the Ministry for about a year, a series of staff movements has meant that the group has had little visibility.
This relaunch event was intended to let new and existing staff know about the existence and purpose of the women's network. We had a great turn out of staff from both our Wellington and Auckland office; Auckland staff participating at the meeting via video conferencing.
The meeting opened with the introduction of the five 'panel members' and an explanation of how the GWN@MoT will work. The group will focus on professional development of women at the Ministry, and provide peer support and encouragement for women here to achieve their career goals.
We also made it known that the 'panel' is not restricted in membership and if others are interested in leading an event or helping organise in another way, we welcome them to step up. We have already been approached by women wanting to be more involved.
Membership and events are open to everyone in the Ministry; it was great to see a few male faces at the relaunch.
Our DCE Corporate Services, Robyn Smith, as the sponsor of the network and our CE, Peter Mersi, both spoke in support of the network and its purpose. Liz Chin, the Interim Programme Director, GWN also spoke to us about the role of the wider GWN and gave us some tips on how to set up a successful network.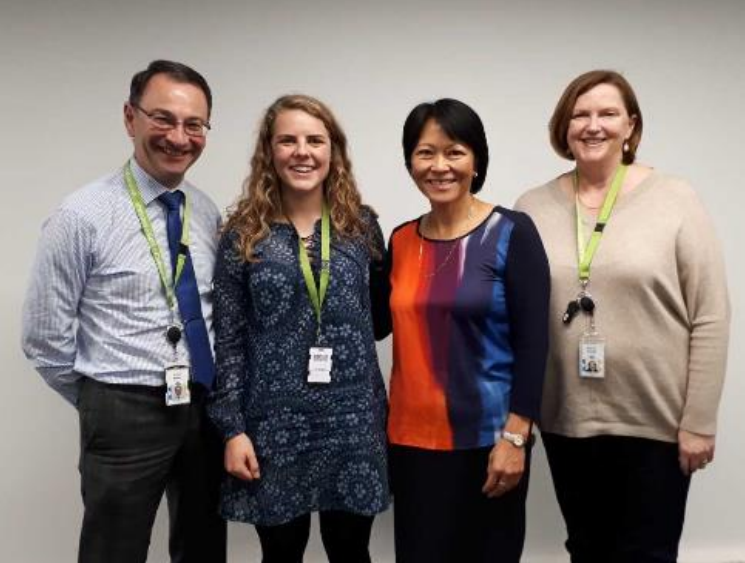 Photo: L to R: Peter Mersi, Ellen Humphries, Liz Chin, Robyn Smith
One of the panel members, Emily Fulham, shared some of her insights from attending the Women in the Public Sector Summit in Wellington, such as:
it's OK not to feel 100% confident all of the time
there are many paths to success
it's important to take ownership of your own career.
We ended our meeting with a brainstorming session to understand what the women at MoT would like to see from the network. The ideas collected will inform the types of events we hold and the approach we take. Ideas ranged from: formal speaker events, workshopping sessions on developing our professional development plans, and setting up mentoring relationships. We are excited to continue the momentum and empower women at MOT.
For further information, contact Ellen Humphries.